Bring On The Obvious
Headline on ProFootballTalk:
The Sad Thing
First, the really sad thing is that this is what passes for "news" in Tampa.
Next, when there's been protection (i.e. when Cincinnati ran vanilla preseason defense), I've actually seen promise. Like some of the best offense the Bucs have shown since Garcia and Gruden. Dirk Koetter might be the best OC the team has had since… well since ever. Granted, that's not saying much, but still. I've seen a passing rhythm, check downs, passes that work, which lead to runs that actually work, which lead to play-actions that actually work. It's like a football team or something.
Regardless, the O-line sucks so bad, even Lovie Smith has noticed. That's pretty fucking awful. How many seasons before Winston starts looking like a Redskins quarterback, which is to say injured, benched and/or psychologically scarred for life?
Post Script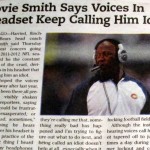 In case you're wondering, here's the complete photo I've used for the masthead. I lifted it from this site, please and thank you. It was too good to not use.